Swimming pools have become a "must-have" feature in your yard, especially when summer hits and both you and the kids need a way to escape from the heat.

But if you live in a smaller home or don't have a particularly big yard, installing a traditional swimming pool isn't always an option. That's where the plunge pool comes in.

In this article I'll run through everything you need to know before deciding on a plunge pool, to ensure you're making the right choice before you buy.
What Is A Plunge Pool?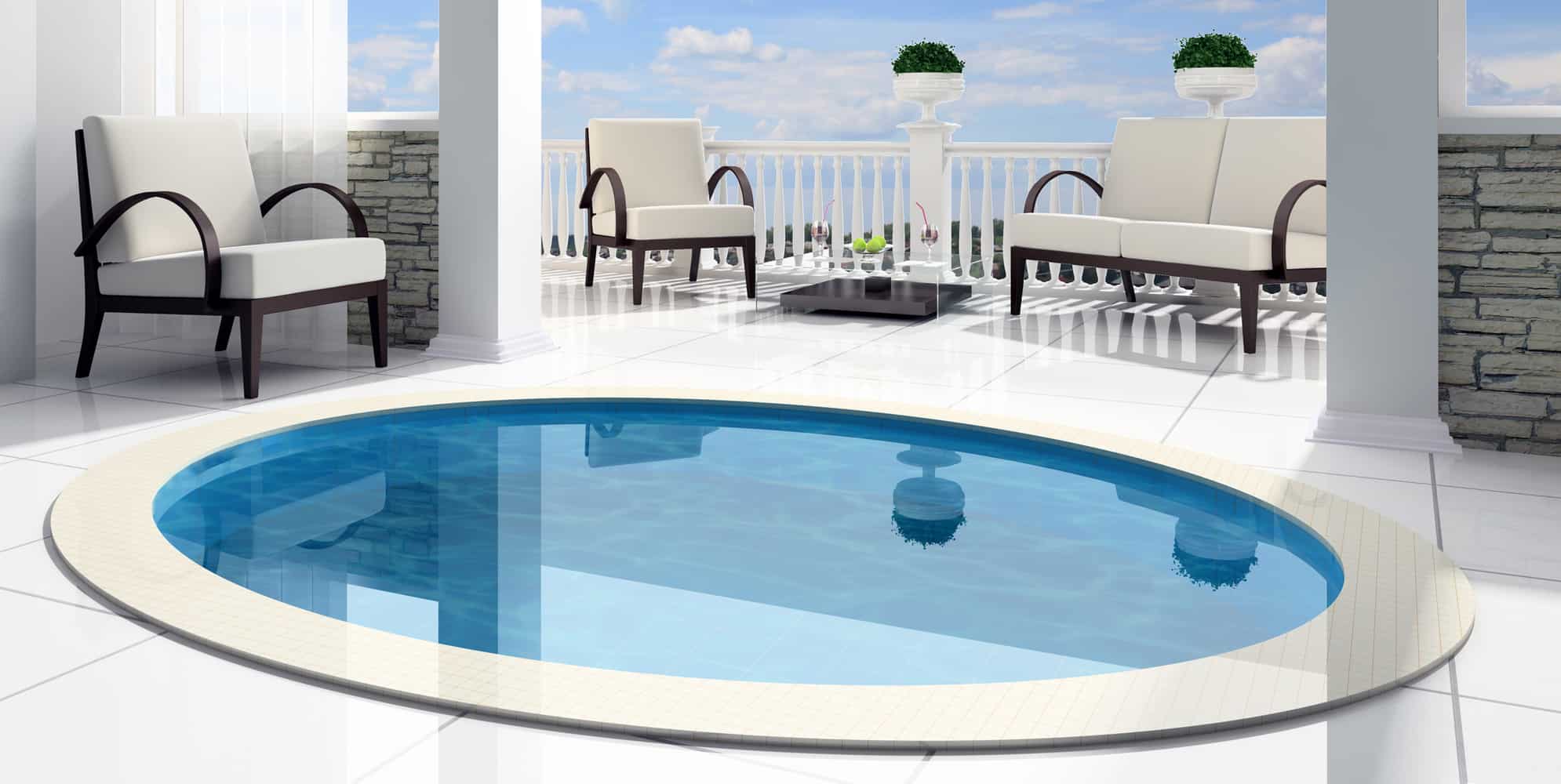 Also known as a dipping pool, the plunge pool is a perfect compromise when space in your yard is at a premium. You can enjoy all the benefits of a pool, in a much smaller area.

At the most basic level, a plunge pool is merely a highly-compact swimming pool. Generally, only a little larger than a hot tub, most plunge pools are between 4 to 7 meters in length, 2 to 3 meters wide, and typically only about 1.2 meters deep.

Their smaller size allows a plunge pool to be installed in areas a traditional pool cannot fit, like along the side of a smaller lot, tucked in by a wall or a fence, or even in an enclosed area of your home. Giving you all the benefits of a pool, without sacrificing space.
How Does A Plunge Pool Work?
A plunge pool is really just a smaller version of a traditional swimming pool, and it works in much the same way.

They're normally installed in-ground (though there are a concrete and fiberglass resin models for an above-ground alternative) and will have all of the same filters and pumps as their larger swimming pool counterparts.

Now, plunge pools are primarily used for two main activities.

The first is relaxation. It gives yourself and your family a space to play and enjoy in the water, lounging poolside with a nice area to cool off when you need a dip. You can even install jets like a jacuzzi in the seating areas to turn a plunge pool into a massage pool.

The second is aquatic rehabilitation. Many people use plunge pools for low-impact exercise and recovery, and you have the option of also adding resistance jet machines into your plunge pool, turning it into a useful space for swim training and exercise.
The Benefits of Using One
Plunge pools have become increasingly popular for several reasons.

Small Space Requirements
Because of their smaller size, you can easily fit a plunge pool into an area where a traditional swimming pool could never hope to be installed.

Many people will set up these plunge pools alongside a patio or deck, or even tuck it away by a wall or fence of a home.

Turning an area that was previously wasted space into an impressive new feature.

Easier to Clean and Maintain
Another positive is that a plunge pool is very easy to take care of.

Their smaller size means less debris finds its way inside, and you can probably even use a manual vacuum and scoop net when you do need to remove any leaves or other junk that accumulates in your pool.

Plus, a smaller pool makes throwing a cover over it a quick and easy job.

Economical Ongoing Costs
The water needs for a plunge pool are also far less than a regular pool, which means you save money on many fronts.

Fewer chemicals are needed to keep the pool water clean, and the associated running costs for pumps, filters, and heaters are also much lower.

And it's not a hassle to top it up when the water level does start to drop.

Installation fees are lower
Building a plunge pool is also cheaper than installing a regular swimming pool in your home, as the area to be cleared and dug is less.

There are also fewer total materials needed for the construction and surrounding areas with the tiling, fencing and decking needs.
The Drawbacks of Using One
But understandably, a smaller swimming pool comes with several disadvantages.

You Have Less Pool To Use
Arguably the biggest drawback is their limited size. Your kids aren't going to have a vast amount of area to play, and you can forget swimming laps unless you install a resistance jet for creating a flow in the water (though it's not "quite" the same).

The Shallow Water Can Be Dangerous
Kids love jumping in and out of a swimming pool, but this presents a significant concern for owners of a plunge pool because there is no "deep end." The shallower design is a safety risk, making it much more likely jumping kids will hit the hard bottom when they play.

Lacking The Overall Aesthetic Of A Large Pool
Despite the beautiful designs of many plunge pools, they lack the wow" factor that comes with a large swimming pool. You're going to end up with a pool that's more akin to a water feature than what most people imagine when you tell them you have a pool in your yard.

Can Only Fit a Few People
Unlike a traditional swimming pool, it's going to get crowded in a plunge pool very quickly.

Their smaller size means you may only be able to fit 4 adults in at one time before it starts getting cramped, which means it's not really suitable for pool parties or hosting lots of swimmers at the same time.
Installing A Plunge Pool
Pool Size And Space Needed
The popularity of plunge pools has skyrocketed in recent years because they allow homeowners with limited space to transform their yard into one they can swim in.

Because of the different sizing options, you really just need a small area of space (as little as a 4 meter by 2-meter area), and you could potentially install your own plunge pool.
This allows you to turn what was once an undesirable part of your yard into an impressive feature, just remember to pick a sunny spot where the pool is still in view from your home.
Design And Materials
Most plunge pools are noticeably minimal, to make maximum use of the area they do take up with what's typically a small, rectangular pool. There are round models, but they are less common as they provide a much less-optimal use of space.

In terms of material, concrete is usually the most common choice, as it can be constructed to fit any particular area, and with the right maintenance will last for 30 to 40 years. Fiberglass resin and vinyl models are the other options, and both of these types of pool are capable of being installed in-ground or above.
Building And Running Costs
While you'd be correct in assuming the installation of a plunge pool is generally cheaper than a traditional swimming pool, it's still a significant expense.

Where you'll find savings are in the smaller area needing to be excavated, purchases like installing all of the decking, fencing, and the heating elements and pump and filter will all represent an expense much like a traditional swimming pool.

Of course, the ongoing running costs of a plunge pool are far lower. You've got less water to treat so you can use fewer chemicals, and this also means you can run a more economical water filter at lower power. This all translates to a lower monthly running cost, especially if you've got a heating element in your pool.
Additional Features To Consider
Because of their smaller size, many plunge pools are constructed with design in mind to generate the kind of "wow" experience pool owners are looking for.

You can find options for aesthetics that will turn a simple plunge pool into a water feature complete with waterfalls and running water.

Or go the alternative route and install relaxing massage jets and seating options to turn your plunge pool into a relaxing, oversized jacuzzi.

You can even buy resistance flow jets if you plan to use the pool for exercise, to create a current that you can swim against, allowing you to do "laps" in a small plunge pool.
Ease/Difficulty Of Installation
Installing an in-ground plunge pool will require quite a bit of work because even though the hole to be dug is shallower, you still need to prepare and sort the area much like a traditional swimming pool installation. This takes time, and costs money.

Of course, placing an above-ground option in your yard is a much faster alternative, and once they're connected and set up, you can use the pool in a matter of days (instead of weeks).

Many companies sell prefabricated plunge pools because they're easier to transport than the big regular pools, and just need to be placed and filled on delivery.
Conclusion
If your yard lacks enough space for a swimming pool, you're in luck. Buying a plunge pool can give you all the benefits of a dip in the cool refreshing water, and will even be a little cheaper to install and keep ready for a swim, the entire year-round.

Share on Pinterest