It's tough keeping the chemicals in balance in your pool. Fighting off that delightful shade of green is a constant battle, but you don't want the water so acidic it's unsafe to swim.
The key to a perfect swimming pool is a little knowledge. Use a swimming pool test kit to understand exactly what's going on in the water, monitoring and fixing any problems with the right chemicals in the right amount, so your water is crystal clear.
In this article, I'll explain how to pick out the best pool test kit along with our recommendation, so you can start getting your swimming pool ready for summer (without needing to be a chemistry major).
Top Picks for Pool Test Kits
We hand-picked the following pool test kits based on their popularity, price-points and differentiating features.
A more complete review of each can be found later in this article, or you can just click here to jump straight to that section.
What is a Pool Test Kit?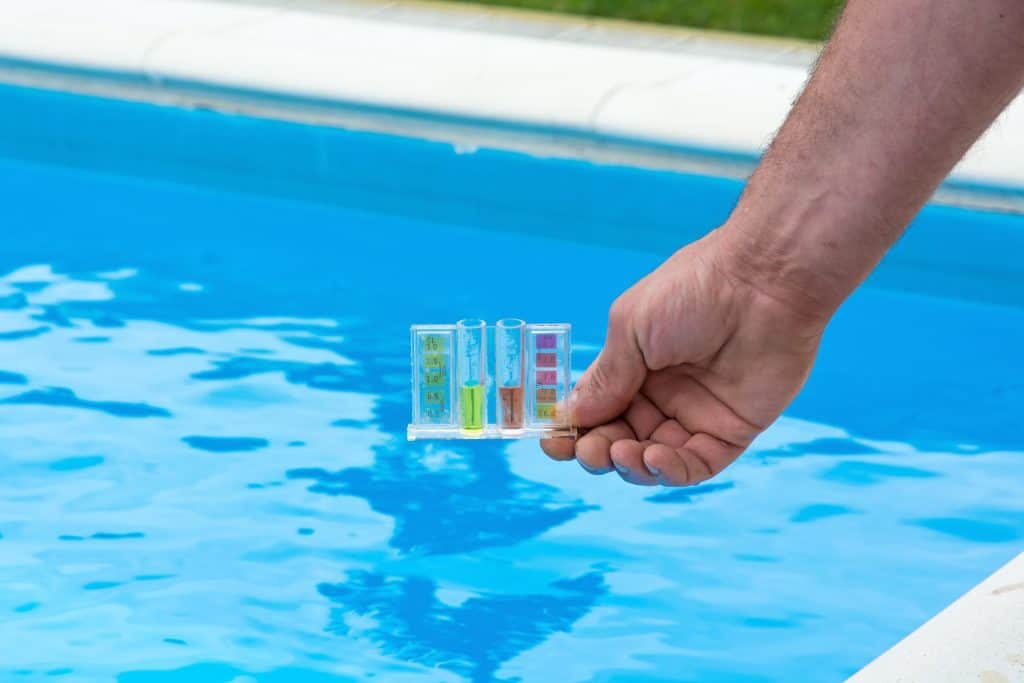 Pool owners can use a test kit to accurately check the water in their pool. It's the best way to measure specific chemical levels, like the chlorine levels or the pH balance of the water to ensure a swimming pool is safe and healthy for use.
Without using a test kit, you can only guess the amounts of different chemicals to add to the water, and once you start guessing, you're most likely going to get it wrong.
Regular testing of the water quality in your swimming pool is one of the most important tasks of pool ownership. You need to ensure the water is safe to swim in, and the pH levels are within a safe range. If not, you'll experience skin irritation, red eyes and the water may even bleach and ruin your swimsuits.
Plus, once the balance in the water is gone, algae and bacteria will flourish.
Smart pool owners are the ones who take care of their pool, after heavy rains, excessive use, or even at minor signs of algae. Armed with the best pool test kit, you can determine exactly what's going on in the water, to keep your pool crystal clear, healthy and safe.
What Types of Pool Tests Are There?
Swimming pool testing kits come in a variety of forms, each with their own unique features, build quality and vastly different price-points to boot.
In this section, I'll cover the different types of test kits you can buy for your pool as well as the benefits and drawbacks of each.
Digital Pool Test Kit
A digital pool test kit uses a set of metallic probes to measure the quality of your pool water.
To use it, you simply wet the probes with a sample of water from your pool, and after a couple of seconds the readings will show on the electronic display.
Often called an electronic pool water tester, you can use it to check the pH levels, total dissolved solids, and some models even measure total alkalinity and calcium hardness.
These kits are one of the most efficient and precise options for testing the quality of your pool, and they make it simple to conduct even daily water tests. The only downside is the price, they are one of the most premium kits on the market.
Photometric Pool Test Kit
Photometric pool test kits use a photometer (a device that measures light) to accurately determine the concentration of chemicals within your swimming pool.
To use it, you use a test strip dipped in a sample of water from your pool, which is then inserted into the device. Instead of having to eyeball the results like a traditional pool test strip, the photometer uses a beam of light to calculate the water quality and provide you with a highly accurate set of results.
I love how easy it is to use a photometric pool testing kit, however much like a digital testing kit, these are one of the most expensive on the market.
Turbidimetric Pool Test Kit
Turbidimetric pool test kits measure the cloudiness of the water in a swimming pool.
These types of tests are rather simple, and usually come incorporated with more economical pool testing kits that also do color changing and color matching tests.
It works by taking a sample of water from the pool, which once mixed with reactionary chemicals, is then visually compared to a sample chart. Allowing you to approximately gauge what's going wrong with your water, so you can adjust accordingly.
These types of testing kits are the most affordable, however they aren't the most accurate, and there is much left to individual interpretation of the color shades in the water.
Titrimetric Pool Test Kit
Titrimetric pool test kits are one of the most precise means of testing the chemicals within your swimming pool, short of buying a digital or photometric testing kit.
You simply take a sample of water from your swimming pool, and place it in the comparator tube within the kit. Depending on the specific test you are doing, you add the appropriate reagent to the sample, drop by drop. Once a reaction occurs, you can calculate the concentration of that particular chemical within your swimming pool by counting the number of drops of reagent used.
Titrimetric kits are quite accurate, and remain one of the most affordable ways to understand what is going on in your pool.
Colorimetric Pool Test Kit
Colorimetric pool test kits involve dipping a test strip into a sample of water from your swimming pool. The resulting "color" is then matched to a chart, allowing an approximation to be made of the concentration of that particular chemical in the water.
These are the most cost-effective of all the testing kits, but they are also the least accurate. Different people will interpret colors differently, and even the light, or the background color you're holding the test strip up against will affect your interpretation.
And that's before we even get to the colorblind people.
But Which Type Is Better?
The most common pool testing kits are a combination of colorimetric, titrimetric and turbidimetric tests, giving pool owners a comprehensive understanding of the chemical concentrations within their swimming pools.
If you're looking for a cost-effective solution, I'd recommend finding a testing kit that relies mostly on titrimetric results. They strike a balance between ease of use while being remarkably budget-friendly, and will help you understand what's needed to keep your pool crystal clear.
However, if you're looking for efficiency, you can't go wrong with digital. Nothing beats the speed, and accuracy of these little devices, which will make your life far easier as a pool owner. It's worth the investment if you really care about your pool.
What Should you Look for in a Pool Test Kit?
Knowing which type to look for will narrow down your options, but it doesn't help you measure the nuances that make or break a product.
Let's go over some of the main criteria you should apply to your decision making process when looking for the perfect test kit for your pool.
It Should Be Accurate
Accurate readings of the different chemicals in your pool are critical, because you will be adding different products to the water based on the results.
But these products get expensive fast. If your testing isn't accurate, you could be wasting hundreds of dollars on pool supplies and treatments you actually do not need.
Colorimetric pool tests are the least accurate, titration tests are better, and at the top of the scale are your photometric and digital pool test kits which are always spot on. If you've only got a hot tub a basic level of accuracy should be fine, but a large pool that needs an exact balance is probably worth investing in a more accurate testing solution.
It Should Be Consistent
Next, it's important to consider consistency. If you're the only one doing the testing, you'll quickly get a feel for the readings and it's highly likely you'll be consistent.
But if there are other people testing your pool, it can cause major problems. They may interpret the colors of a colorimetric test differently, and miss a potential problem.
It's vital you stay ahead of problems developing, like a growing imbalance within your pool, so you can treat it proactively, before it becomes a major problem. I'd always recommend looking for a test kit that has a proven track record of consistent results, and if there are many different people using the test kit, consider a digital or photometric solution.
It Should Be Comprehensive
No matter what pool test system you choose, it needs to cover the basics.
The most important tests to run are the chlorine levels, the pH balance of the water, and the total alkalinity within your swimming pool.
At the most fundamental level, if you keep these three in check, your pool should be safe for swimming. Any kit you buy should offer these as a bare minimum.
The best pool test kits will also monitor for things like calcium hardness, salinity, and even phosphates in the water, and what you're likely to get if you buy a high-end photometric test kit or a digital reader.
It Should Be Easy To Use
Taking care of your pool can often feel like a chore, and it's important you find a pool test kit that is simple and easier to use. You want to make your life easy.
The most basic pool test strips are rather easy. Place it in water, they change color, and you compare it to a color spectrum on a card. Find the matching color, and that's the reading.
Titrimetric pool test kits can be fiddly, and will require 10-15 minutes of your time when you want to run through all the tests as you will need to do the tests one by one.
Digital readers are probably the simplest, you don't have to even compare colors. If you're not comfortable fiddling around with lots of different reactions these are your best options.
It Should Be Designed Well
Finally, you need to think about the design. I like to stay organized, and many of these products come with a case that it simple to pack away once I'm done.
Strong and sturdy, what you don't want is pieces breaking off or falling into your pool while you're trying to collect samples. Especially in winter, you won't want to fish these out.
Good design also means its intuitive and straightforward to use. I don't like having to spread a hundred things out in front of me while I'm squatting next to the pool. Find a kit that is designed well, and not a hassle to use.
Reviewing The Best Pool Test Kits
So far we've covered what a testing kit is, why you need one, the different types available, and what features to look out for.
In this section, we'll be looking at specific products, each of which were hand-picked for review based on the same criteria I've outlined in this guide.
Let's get right into it.
#1. Poolmaster 22260 5-Way Test Kit
No products found.
Designed by Poolmaster, this titrimetric testing kit has five different options fundamental to keeping your swimming pool heathy, and is remarkably affordable.
You can test for chlorine, bromine, pH, acid demand and total alkalinity.
What I like best is the integrated color chips in the test block, as it makes it simple to color match the different test results, and these have been UV protected so the colors will not fade over time. Plus, it has a nice handy case for staying organized while testing your pool.
The only downside is interpreting the results, especially of the chlorine test as these can be tricky to match against the respective color chart.
Pros:
One of the most affordable kits
Detailed instructions make it easy for all users
Results from the test are quite accurate
Cons:
Chlorine test results can be hard to interpret
#2. Taylor Technologies K-2006 Test Kit
Country Of Origin: USA
Model Number: K-2006
Item Package Dimensions: 9.099999990718" L x...
Designed by Taylor, this is a titrimetric pool testing kit that offers pool owners seven different tests for maintaining water quality in a swimming pool.
In addition to the five tests found in the Poolmaster 5-Way, this particular product allows users to calculate calcium hardness and cyanuric acid levels in their water.
Calcium hardness is important because at low levels it can suck the lime from your concrete and tile base, while cyanuric acid imbalances can hinder the effectiveness of chlorine in killing bacteria and viruses in the water.
The only downside to this one is the degree of detail, it will take a while for you to get the hang of the tests.
Pros:
Additional tests make it a more comprehensive solution
Results from the tests are quite accurate
Cons:
Can take a while for a user to get the hang of the tests
#3. Taylor Technologies K-1766 Test Kit
Taylor Technologies K-1766 Salt Water Kit is for...
Country of Origin: United States
Brand Name: TAYLOR TECHNOLOGIES INC
Designed by Talor, this is a titrimetric salt water pool test kit primarily for owners of, you guessed it, salt water swimming pools.
Perfect if you're wanting to determine the levels of sodium chloride in your swimming pool, and keep these within a safe range all season.
The only downside is this is a single test, you will need to purchase a different testing kit to understand everything that is happening in the water in your swimming pool.
Pros:
Comprehensive instructions make it easy to use
Comes with a heavy-duty, waterproof case
Results from the test are quite accurate
Cons:
Test results could be better interpreted with a shading chart
It only tests the levels of salt in your swimming pool
#4. LaMotte 2056 ColorQ Pro 7 Digital Pool Water Test Kit
Features a photometer which gives you a digital...
Water resistant housing and carrying case...
Tests Free Chlorine, Total Chlorine, Bromine, PH,...
Designed by LaMotte, this photometric testing kit is what you need if you're wanting to take your management of your swimming pool to a whole new level.
Covering the seven different tests available in the Taylor K-2006, what really stands out with using this test kit is how easy it is. Liquid reagents are provided for all the tests, which you simply add to a vial of sampled water and insert into the photometer.
At the press of a button, you know the exact reading of the test, down to a single decimal point. Even a rookie pool owner will be able to keep their pool in perfect balance.
The downside for this one is the cost, it's definitely a premium option.
Pros:
Guidebook with phots and instructions make it easy to use
Provides a level of accuracy on par with your local pool store
Accurately determine the exact chemicals your pool needs
Cons:
If the device has an error, it can take time for it to reboot
#5. Taylor Complete Pool Water Test Kit K-2006C
No products found.
Designed by Taylor, this is one of the most comprehensive titration-based pool testing kits you can buy, offering an insight into your pool unavailable from other kits.
You can test for free and total chlorine, bromine, pH, acid and base demand, calcium hardness, total alkalinity and stabilizer levels.
If you're worried you've been "over treating" your pool this is the test kit for you. But what I like most are the giant bottles of reagent. At 2oz, you won't need to be running to the store for replacements in just a few short weeks if you're as addicted to testing your pool as I am.
The downside though is the complexity. With a guidebook that explains the chemistry behind all the tests, it's great if you're wanting to learn but can be overwhelming if this is all new to you.
Pros:
Explanations so you know the right order to begin corrections
Detailed manual unlike anything you will find in other kits
Large bottles of reagent so it doesn't run out as quickly
Cons:
Perhaps a little complicated if this is your first test kit
Our Winner
Of all the options my personal favorite is the LaMotte 2056 Digital Pool Water Test Kit. Enabling you to run comprehensive tests while still being simple to use, it's the only solution you need for fast and highly accurate test results.
And the more accurate your results are, the less money you waste on expensive pool chemicals you simply don't need.
The Runner Up
Coming in close second for the best pool test kit is my go-to fallback solution. The Poolmaster 22260 5-Way Test Kit. What I love most about this kit is the value for money.
It's so affordable, there is no excuse for not keeping your swimming pool in check. If you're looking for a small and inexpensive testing kit to ensure your swimming pool is clean all summer, this is where you should start.
There's no big secret to a crystal-clear swimming pool, all it takes is a little balance. With the right pool test kit, you'll know exactly what to add to keep your water safe and healthy. Be a smart pool owner, and test your swimming pool today.